The ISLEX Project
ISLEX is an online multilingual dictionary between modern Icelandic and six Scandinavian target languages (TLs): Danish, Norwegian (both standards: Bokmål and Nynorsk), Swedish, Faroese and Finnish. It is accessible on the web, free of charge.
The project is organised in the following way. The largest editorial staff, responsible for the description of the Icelandic source language and the development and maintenance of the database, is located at The Árni Magnússon Institute for Icelandic Studies in Reykjavík, Iceland. Its partners and responsible for the TLs are:
The Society for Danish Language and Literature (DSL) in Copenhagen (for Danish)
The University of Bergen, Norway (for Norwegian)
The University of Gothenburg, Sweden (for Swedish)
The University of the Faroe Islands (for Faroese)
Helsinki University (for Finnish)
The dictionary was opened to the public in November 2011. The Faroese target language at a later date, in March 2015. The Icelandic-Finnish dictionary will be opened in March 2018.
ISLEX is constantly being updated as needed, e.g. by making corrections and adding new lemmas.
The project aims to take advantage of the features of the web medium, so the dictionary is supported by many pictures, and the pronunciation of all the lemmas can be heard as spoken sounds. There are links to the inflections of the Icelandic headwords in a special database, Beygingarlýsing íslensks nútímamáls, where their full paradigms are displayed.
After the dictionary's target language has been selected on the home page, the search form offers several different search functions.
ISLEX is the first dictionary that combines so many Nordic languages in one database. Within its 50,000 articles there is a large number of phrases, collocations, fixed expressions and examples of use, all of which are translated into the target languages. The Icelandic source language is mainly the modern language, but some important vocabulary of Old Norse is included as well.
The dictionary's target groups are, firstly, those who learn and teach Icelandic in Scandinavia and elsewhere in the world. Secondly, translators between Icelandic and the other Scandinavian languages. Thirdly, Icelanders who need to look up words in one or more of the target languages.
ISLEX is well suited for gaining insight into the relationship between Icelandic and the other Scandinavian languages. Importantly, it is also a valuable tool in the step towards enhancing the already strong historical and cultural bond between the Nordic nations (friendly or inimical through the ages), and helping with their inter-language understanding.
ISLEX uses Postgres database and Linux Operating System.
ISLEX on the web:
islex.is (Icelandic)
,
islex.dk (Danish)
,
islex.no (Norwegian)
,
islex.se (Swedish)
Participants in the Project
Top of page
Project staff
Iceland
Þórdís Úlfarsdóttir, Editor in Chief
Halldóra Jónsdóttir, Project Manager and Editor
Jón Hilmar Jónsson, Editor
Gunnlaugur Ingólfsson, Editor (until 2010)
Ágústa Þorbergsdóttir, Editor (until 2010)
Aðalsteinn Eyþórsson, Editor (until 2007)

Special editing tasks:
Guðrún Kvaran
Ásta Svavarsdóttir
Denmark
Lars Trap-Jensen, Project Manager
Kjeld Kristensen, Project Manager
Aldís Sigurðardóttir, Editor
Liisa Theilgaard, Editor (2008 - 2010)
Norway
Helge Sandøy, Project Manager
Þorsteinn G. Indriðason, Project Manager
Margunn Rauset, Editor
Kjersti Lea, Editor (until 2010)
Ragnhild Svellingen, Editor (until 2009)
Tone Myklebost, Editor (from 2011)
Silje Beite Løken, Editor (from 2011)
Astrid Kjetså, Editor (from 2011)
Sweden
Anna H. Hannesdóttir, Editor og Project Manager
Håkan Jansson, Editor
Ylva Hellerud, Editor
Faroe Islands
Jógvan í Lon Jacobsen, Project Manager
Zakaris Hansen, Project Manager
Þóra Þóroddsdóttir, Editor
Árni Dahl, Editor
Bjarni Steintún, Editor
Carl Jóhan Jensen, Editor (until 2012)
Finland
Helga Hilmisdóttir, Project Manager and Editor
Sari Päivärinne, verkefnisstjóri (from 2017)
Marjakaisa Matthíasson, Editor
Hanna Ampula, Editor
Emilia Reitamo
Áslaug Hersteinsdóttir-Hölttä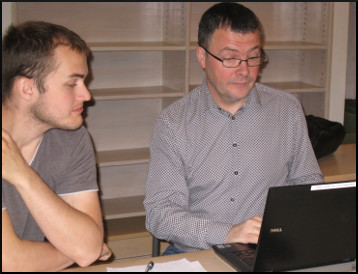 ISLEX meeting in Helsinki in October 2014. Bjarni og Zakaris.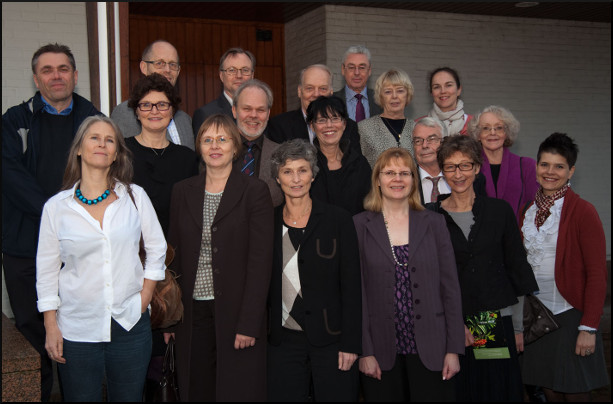 The staff and original Steering committee of ISLEX.
Top of page
The project is supported by ...
The project has mainly been funded by the governments of the participating countries. However, there have also been some important sponsors:
| | |
| --- | --- |
| Nordplus Sprog | |
| Nordisk Kulturfond | |
| Nordisk Sprogkoordination | |
| Suomen kulttuurirahasto | |
| Fondet for Dansk-Norsk Samarbejde | |
| Letterstedska Föreningen | |
| Fondet for Dansk-Islandsk Samarbejde | |
| Dansk-Islandsk fond | |
| Baugur Group | |
| Landsbanki Íslands | |
| Landsvirkjun | |
Top of page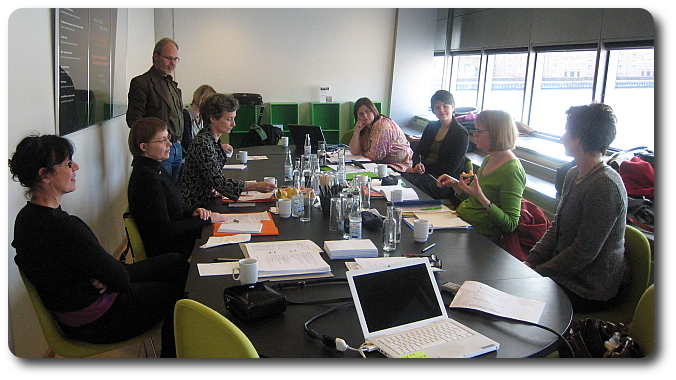 An editorial meeting in Copenhagen in March 2009.
Statistics and a Sample Word
ISLEX data
| Icelandic material | Items |
| --- | --- |
| Headwords | 48,700 |
| - Nouns | 33,300 |
| - Adjectives | 8,400 |
| - Verbs | 4,200 |
| - Adverbs | 1,800 |
| Collocations/Idioms | 9,800 |
| Examples of use | 31,500 |
| Pictures | 3,200 |
Example word from the dictionary: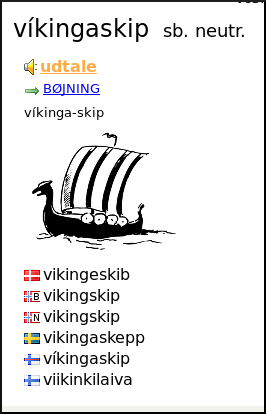 Articles and Reports about ISLEX
What is a Target Language in an Electronic Dictionary?
An article from the
Proceedings of eLEX Conference 2015
(in English)
ISLEX - a Multilingual Web Dictionary
An article in the 2014 LREC Conference Proceedings about the ISLEX dictionary (in English)
ISLEX - norræn margmála orðabók
A fairly comprehensive article about the ISLEX dictionary (in Icelandic). In the journal
Orð og tunga 15,
(2013) (in Icelandic)
Tvåspråkig lexikografi – ny teknik, nya funktioner. Den digitala ordboken som parallellkorpus
Article in Meijerbergs Arkiv för svensk ordforskning (2012) (in Swedish)
Ekvivalensrelationer i tvåspråkig lexikografi
Article in LexicoNordica 19 (2012) (in Swedish)
Ein-, to- eller fleirspråkleg ordbok?
Article in
Nordiska studier i lexikografi 11
(2012) (in Norwegian)
ISLEX - En flersproget nordisk ordbog
Article in
Nordiska studier i lexikografi 11
2012 (in Danish)
ISLEX-ordbogen
A descriptive account of ISLEX from 2009 (in Danish)
ISLEX in Euralex 2008
An article about ISLEX in the EURALEX Conference Proceedings 2008 (in English)
Origin of ISLEX
A short account of the beginning of the ISLEX project (in Icelandic)
Anders Ljunggren's Speech
A report from Mr Anders Ljunggren, Sweden's Ambassador in Reykjavík (2009-2013), about the preparation of an Icelandic-Swedish dictionary (in Swedish)
Svavar Gestsson's Speech
The speech of Mr Svavar Gestsson, former Ambassador, at the opening ceremony of ISLEX in Gothenburg 2011 (in Swedish)
Top of page
Reykjavík in 1970 (photo: Úlfar Helgason)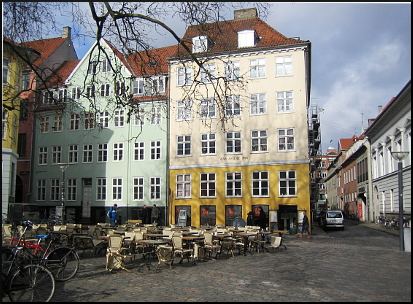 From Copenhagen (photo: Þórdís Úlfarsdóttir)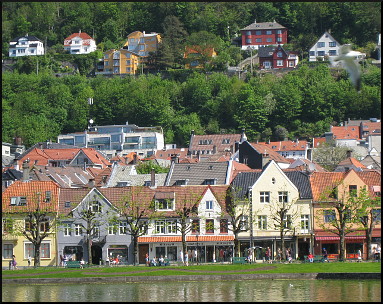 From Bergen (photo: Halldóra Jónsdóttir)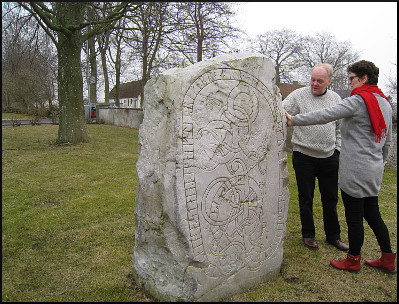 Jón Hilmar Jónsson and Halldóra Jónsdóttir admire a runestone in Skåne, Sweden (photo: Þórdís Úlfarsdóttir)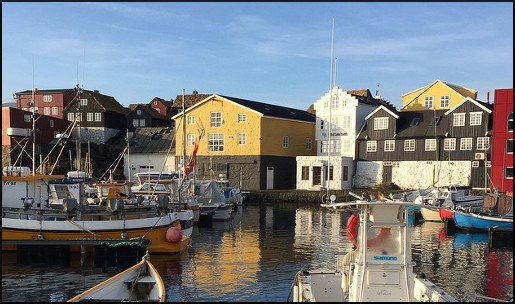 From Tórshavn (photo: Sif Gunnarsdóttir)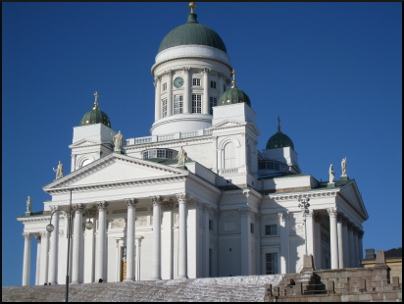 From Helsinki (photo: Þórdís Úlfarsdóttir)
Top of page